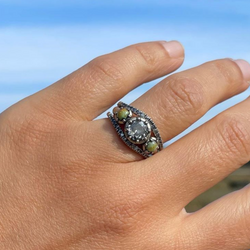 Selina King
Kim's Georgian Diamond And Turquoise Engagement Ring
I am just so so in love with how this design came out. This ring was for my dear friend Kim. She just needed an update to her old engagement ring however the original diamond we were unable to use bc of a crack so we just started from scratch.
For this ring's center diamond I sourced an antique champagne Old European Diamond and also antique diamonds for the outside bands. The turquoise I had custom cut out west from an antique estate slab of turquoise. I just love the green color and how it worked with antique diamonds.
Kim wanted something that felt rustic and had an old-time feeling, so between the antique diamonds, vintage turquoise & oxidation, I feel like I achieved the look we were going for.
I can not even explain how beautiful this ring is in person but the woman I made it for is such an incredibly beautiful soul herself it was a match made in heaven. She loved the ring and teared up a little when I gave it to her & I did too. A lot of love went into this piece and I'm so happy it was exactly what she wanted