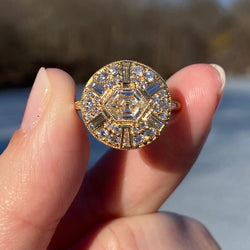 Selina King
Selina's Art Deco Hexagon Diamond Ring
When Gavan and I got engaged I was 19 and he was 24. We were babies. The ring he proposed with was given to him by my mother and he went and got an aquamarine put into the setting. At the time I was in my first year of college at Parsons in New York and we were going to try to do the long-distance thing. We were also going through one of the toughest situations we had been through together as a young couple. His mother Marilyn, to who I was very close as well, was diagnosed with cancer. She called me towards the end of my first semester and said "Selina you have to come back home. I feel like you and Gavan will not last if you don't and I know you two are meant to be together".

I knew I could not leave school completely but I got a leave of absence and came home for a week. That trip changed the course of our lives because it made Gavan and I realize how much we loved one another and we knew we wanted to be together. After going back to NY and finishing up the school year I came back home and Gavan proposed not too long after. We spent that summer together with Marilyn before she passed. In my heart, I know it is because of her that we are still together. Since that moment we have not left each other sides.

The ring Gavan gave me at the time was all we could afford and that's ok because it's not what mattered then or now. What mattered was our love for one another which is still going strong. After I started designing jewelry I swore eventually I would make myself a ring to wear in honor of our love. Well, I finally did. This ring has been two years in the making as I've tried to work on it when I can with my other work.

The center diamond is a 1950's era hexagon. I fell in love with the diamond when I saw it and knew right away I wanted to design an Art Deco ring for myself around it. I'm so in love with how the final design came out and I'm already stacking it with my Celestine diamond band from my collection, which is named after my grandmother.

It feels good to work hard for so long and finally treat myself to something nice that I made custom for myself. 
After all the custom projects I've designed it has made me feel beautiful just to wear something that I put as much love into as my other projects. I'm proud of myself for finally taking the time to get it finished.

So, in the end, it is just a special piece for me to wear as a reminder of I and Gavan's love and how we began but also to inspire me to keep pushing myself as a designer.