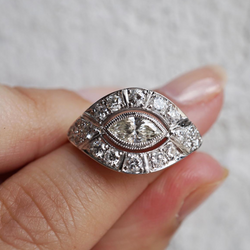 Selina King
Michelle's Art Deco Marquise Diamond Ring
This ring was such a special project for me to work on. It was for my dear friend Michelle. Michelle and I met years ago when she began selling my jewelry at her store

 

@birdiejames

 

in my hometown of Hilton Head Island. We've been close ever since.

The vintage diamonds for this ring I designed were pulled from rings belonging to the 3 most important women in Michelle's life, who've all sadly passed away over the last 5 years. She reached out to me bc she wanted to recreate something with the diamonds that she could wear every day to represent each of the three women who she calls her "Golden Girls" but also to have a piece in honor of her childhood memories spent with them. She wanted something she could pass on to her daughter Hattie as well who was never able to meet the women that meant so much to her.

I started this project about 6 months ago and I put my heart and soul into it to make it a ring Michelle & Hattie would treasure forever. I knew this was a tribute to the beautiful women who were the strength in Michelle's life and the inspiration behind her store Birde James and I wanted to make it perfect.

I only wanted to use the diamonds she provided me so I was able to map out this design that matched Michelle's elegant style and still felt vintage. I wanted to go with an overall Art Deco period feel. I've attached a photo at the end of all 4 rings that the diamonds were pulled from.

I can not even express how happy I am with the way this ring came out.